Frequently asked questions
Why hire Blue Hibiscus Gardens?
---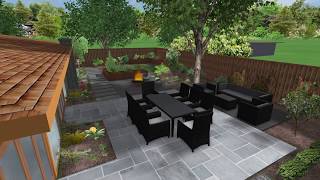 Blue Hibiscus Gardens specializes in two aspects of the landscape design business that sets it apart from others: - Formally trained horticulturalist who can determine the right plant for each space you have - Advanced technical skills for computer design and visualization so that you can imagine what your garden will look like. Blue Hibiscus Gardens prides itself in its ethical, professional, efficient and transparent service and design. The goal is to provide you with sustainable and ecologically responsible design while at the same time giving you a beautiful and usable space.
---
What is the difference between a designer and an architect?
---
Blue Hibiscus Gardens is a professionally trained designer with a degree in Environmental Design and Horticulture. It is not a landscape architecture firm. A licensed landscape architect can additionally do commercial designs where a landscape designer in California only does residential designs. A licensed architect can provide construction documents and drainage and grading plans. A landscape designer relies on his or her licensed contractor contacts to complete the installations according to the state regulations for construction.
---
What does a designer do and how does a designer work with an installer?
---
A landscape designer generates a plan that can be used by landscape contractors to build your dream project. Blue Hibiscus Gardens can generate a 2D and 3D plan for visualization, communication and documentation, illustrating the placement of hardscape elements and plants as well as indentifying the size and number of plants and recommended type of irrigation. This plan is done with micro climates, sun exposure, water conservation in mind. During the installation phase, Blue Hibiscus Gardens can be present on site to help with plant health decisions, plant removal, placement and hardscape adjustments. The contractor is responsible for building and planting according to industry standards. The designer and the contractor work for the home owner individually on separate contracts.
---
How long does the design process take and how much does it cost?
---
The cost and length of the design process are dependent on the scope of project. It is fair to say nothing can be achieved for a full yard plan that is bid-worthy for less than several thousand dollars. If you prefer to be budget conscious, the best way to keep your cost down is to schedule a consultation and try to do as much as the installation work on your own as possible. A project design cost estimate will be provided by Blue Hibiscus Gardens once initial consultation phase is done. Most consultations take 1-2 hours. Drive time to and from the site is charged at half rate.
---
What is your design style?
---
The most important factor for Blue Hibiscus Gardens is to provide you a garden with as much of your wishlist as is feasible. The design of the home and your favorite plants are all taken into consideration during the planning. Blue Hibiscus Gardens can give you guidance on coordinating the exterior of your home with your landscape. In addition to a design you will enjoy, a major goal of Blue Hibiscus Gardens is to present a garden that is environmentally and horticulturally sound with water conserving plants.
---
Why do I need a design?
---
Motto of Blue Hibiscus Gardens is: "If you fail to plan, you plan to fail." It is always best to have the full plan in hand even if you decide to do the installation in phases. This ensures that costly mistakes are avoided such as putting hardscape down and later realizing that you missed putting conduits under it for irrigation and low-voltage lighting in a far corner that is now unreachable.
---
Do you do installation services as well?
---
Blue Hibiscus Gardens can provide you with referrals to licensed landscape contractors. It does not provide direct installation services.
---
How does the design process work? What are the steps?
---
If you are interested in working with Blue Hibiscus Gardens, please send an email inquiry and Blue Hibiscus Gardens will send an online questionnaire for you to complete. Your answers will be used to determine if the firm can help you and later in the design process to pick plants and materials. Please send photos of your garden along with the answers. After reviewing your responses, Blue Hibiscus Gardens will schedule a short and free phone call to go over your questionnaire and any other questions you may. After the phone call, if Blue Hibiscus Gardens and you decide to move onto the next stage, we would normaly schedule a paid, on-site visit. Blue Hibiscus Gardens will tell you how much you can expect to pay for the consultation. During Covid-19 pandemic, it is possible to move this meeting to a virtual platform if requested.
---
What services does Blue Hibiscus Gardens provide?
---
Blue Hibiscus Gardens is a landscape design firm which serves residential sites . Services include garden and hardscape design, planting design, container planning, and horticultural consulting. Blue Hibiscus Gardens does not provide installation services, but can introduce you to licensed landscape contractors who do installations. The service area is focused on SF Peninsula and SF South Bay counties.
---
How has COVID changed the landscape business?
---
The landscape businesses are continuing to work throughout in the SF bay area at this time. Blue Hibiscus Gardens requests that all meeting attendees abide by the county rules such as wearing masks, keeping 6 feet apart and meeting out of doors . As much as possible, the meetings will be held virtually.
---
What type of designs do you take on?
---
Blue Hibiscus Gardens only does residential site plans, and enjoys working with contractors as well as homeowners for different sizes of jobs from suggesting upgrades to complete yard designs. If your site needs MWELO applications, Blue Hibiscus Gardens is happy to handle the all the math and water usage calculations for you. However, certain cities will require independent, third-party irrigation designers or irrigation reviewers. Therefore, as a homeowner, please plan for the extra cost of these third-party services. Blue Hibiscus Gardens can refer you to additional resources you may need such as fine gardening, maintenance, irrigation design and review and licensed landscape contractors.
---
---